Preparation is Key
The first and most important key to proper preparation for a fly fishing trip of any duration is to know where and when you're going. Seems obvious, but this includes many factors.
Based on expected weather conditions what kind of clothing will be appropriate.
Location and season should give you an idea of what flies will be needed.
Try to obtain some local knowledge in advance in regard to water conditions for safety purposes especially on tailwaters.
Make sure to purchase any licenses and permits beforehand.
Do a little homework. What are the specific needs in terms of rods and reels required for target water and target fish.
Prepare for the trip with a little practice casting on the lawn and take an extra rod and reel combo on the trip, just in case.
A little gathering of local information in regards to hatches and insect activity will help tremendously when it comes to the flies you will need for the trip. It is always a good idea to stop by the local fly shop near your destination. Most fly shops will be glad to help with your fly selection as well as circling some spots on the river map. I suggest enlisting the services of a quality guide on your first fishing day in order to speed up the learning process for finding fish and also what flies and techniques to use on his or her local waters. Tip your guides, they bust their butt to put us on fish.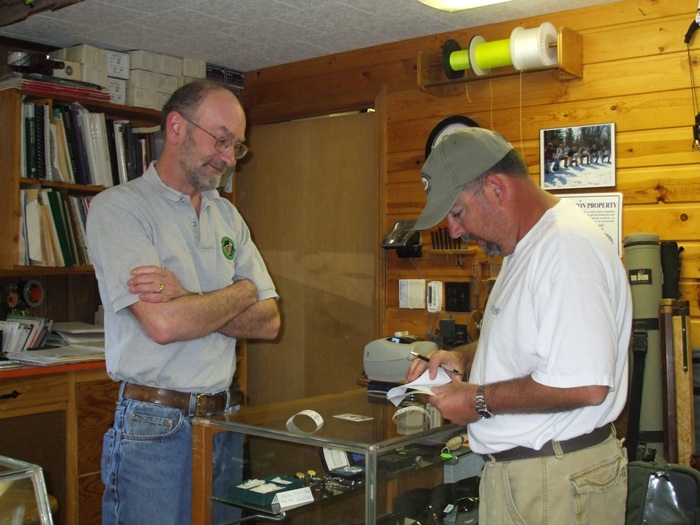 The Checklist
As far as packing the gear is concerned, I humbly provide my checklist.
☐ Waders – if they were leaking the last time you used them, repair or replace, they have not healed themselves nor will they.
☐ Boots – same as above. That sole that is working loose on the bottom of your boot is not going to reconnect on its own.
☐ Vest or Sling Pack – very much a personal preference. I have always used a vest and I probably always will. The key to a great vest, for me, is that everything I need on the water is handy and in its place. The best example I can give is by examining my own gear and how this has evolved over time. With my vest on and from my perspective, this is what I carry on a typical trip to my home waters.
Top pocket on the left below the fly patch contains a small powerful flashlight and at times my camera/phone.
Middle pocket on the left houses my leader wallet.
Lower pocket on the left will hold fly boxes for the day's trip.
Storage pocket on the left holds my bottled water.
Top pocket on the right side, slightly stained from twenty years of excess floatant, holds a water thermometer and a bottle of floatant.
Lower pocket on the right side will hold fly boxes for the day's trip.
Storage pocket on the right side safely holds my Mungua beef jerky, peanut butter crackers, and granola bars.
Zippered pocket on the inside on the right chest is my secured vault for fishing license and most importantly, truck keys.
Storage pocket on the back of the vest is a great place to roll up a light rain jacket.
Mesh landing net is magnetically attached to the back of the vest. It is out of the way and ready for action.
☐ Lanyards – I have tried many different accessories over the years and I have found that I did not need as much stuff as I thought. Bob Linsenman once suggested to me, and this is a nice way of putting it, that if you are not going to use all that line on the bottom of the boat, put it back on the reel. The same thought can be applied to gear not being used that day, leave it in the truck. This is what my lanyard looks like after years of trial and error.
Tippet spool – make sure you have the sizes you will need this trip.
Forceps – attach to your vest to keep them out of the way of line.
Dry Fly Patch – I do use this especially for delicate wings on Mayfly imitations.
Small flashlight
☐ Camera/Phone – I have added a phone lanyard to my arsenal and I find a lot more pictures are being taken since I feel my phone is safe from fumbling during the heat of the battle.

☐ Hat & Polarized sunglasses with strap – You have to be able to see into the water to be at your best. The strap is key, I have deposited sunglasses into many streams across the Midwest.
☐ Extra Essentials – Throw everything into the truck before it gets misplaced. Grab a road cup of coffee and a sausage biscuit or a sub sandwich and head to the stream. Did I check the gas and remember to grab an extra pair of socks?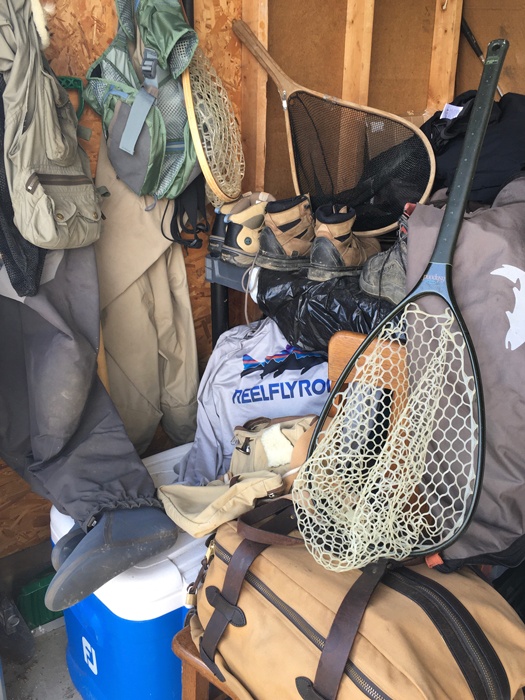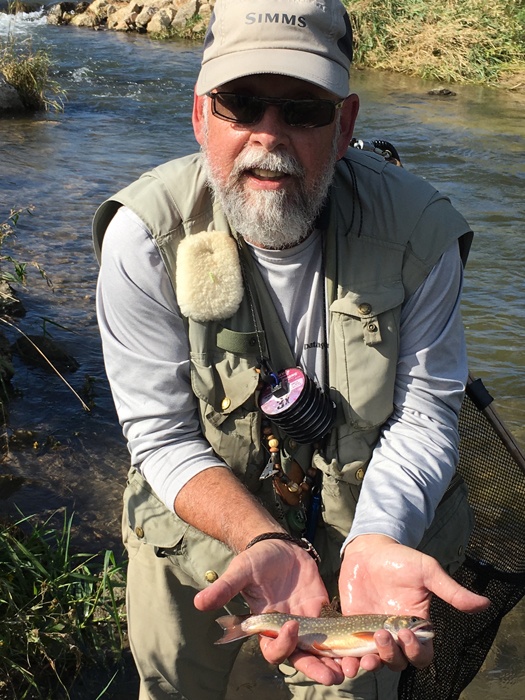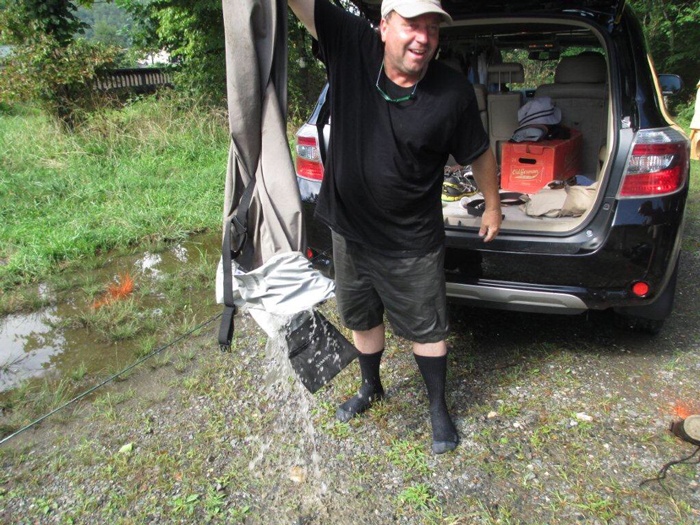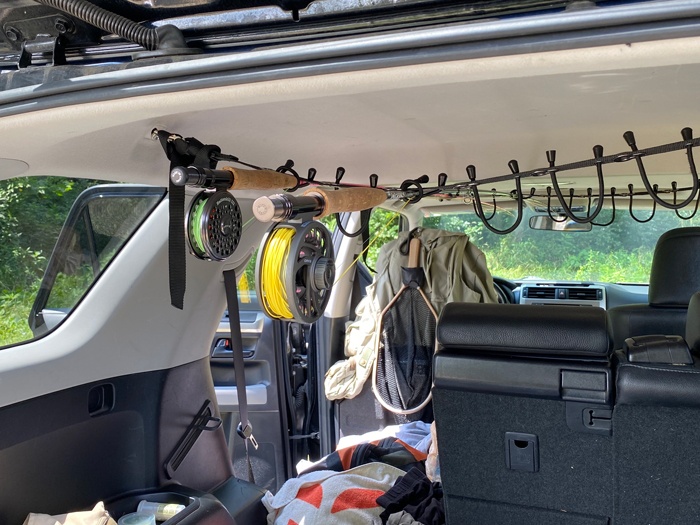 Preparing Mentally
Upon arrival at the stream, I firmly believe a system is needed. This is the moment when a lot can go wrong. Beautiful Winston fly rods and classic Ross Evolution reels can be destroyed when your system is ignored and your truck does what it always does when you put it in Drive, it goes forward. One can be forced to drive home without glasses when the system breaks down. A delivery of spare keys for your vehicle can be necessary if attention to details is abandoned. Old Testament kinds of stuff. The point is that a lot can happen out there and I try to eliminate as much operator error as possible by having a mental checklist.
It should go without saying, but I'm going to say it anyway. Be courteous when you are at the stream, this begins with parking. Make sure you only take up enough room to open all the doors and the back gate. Being a gentleman or a gentlewoman fly fisherman can begin right in the parking area. Now that the truck is parked and the keys are in hand, we can suit up. By the way, put the keys in an obvious place then suit up. Most times I get dressed for the river after I have taken the time to see what conditions exist on the stream. In some cases, this is not feasible due to the distance involved between the truck and the stream. In that case, suit up with confidence that the conditions are going to be great.
I am remembering a few details in regards to "slipping on the waders" that I am sure I do every time in the back of the truck without really thinking about it.
Have a large shop towel to sit on while pulling your waders off and on. The towel then becomes a great place to set your wet waders and boots for the ride home.
Roll your pant legs under your socks. This will prevent your pants from crawling up your legs while wading.
If your boots are too tight when pulling them over your stocking foot waders, try dipping the boots in the stream, then try again. Amazing isn't it?
Put on your properly prepared and customized vest and lanyard.
Make sure your hat and sunglasses are set properly on your head and face by checking your reflection in the truck windows. Now you look like you know what you are doing. Remember what Dewey used to say, "If it don't go fast, paint it pretty."
Setting Up Your Rod
Now is time to set up the rod for the day. I wait to put the rod together until I am dressed and ready to head to the stream. I know the rod is safer the more time it spends in the tube. Things can get crazy with three guys scrambling through gear during the set-up process during a hatch. My partner, Andy, wanted me to be detailed when it comes to setting up the rod to start the day. As of late, I've been favoring the rod and reel combination made up of a Winston Pure 9′ for a 4 weight line and an Abel Vaya 4/5 reel. For line, leader and tippet I've been predominantly using Rio products. Keep in mind, this is based on my experience, where I'm fishing, what I'm fishing for, weather conditions and the season. I've personally been fishing small stream settings and wading within casting range of rising trout. Everyone's set up will be different for each unique case.
Note, with the list below there are many ways to set up a fly rod for action. I am not saying this is the best or only way to do it. I have just done this long enough that some things have become habitual and it works for me.

☐ The Rod – I put the rod together starting with the tip and progressively build the rod to the reel section. Line up the guides as you put each section securely together. Do not twist the rod to line up the guides. If needed, pull apart and try again.
☐ The Reel – Attach the reel to the rod. Be mindful of whether the set-up of the reel is for right or left hand retrieval, it makes a difference. This is a good time to check your drag setting. Make sure, just like Goldilocks, the drag is not too tight or not too loose, just right.
☐ The Line – I highly recommend a good if not great quality fly line properly matched to your fly rod and casting needs. This can make a huge difference in the enjoyment of the day. There are so many different types of fly lines available on the market today that I suggest you ask for some guidance or even an opportunity to demo some product at your local fly shop. Side note-when running the line through the guides at the start of the day, try doubling the fly line over and thread through the guides carefully one by one. This is much easier than trying to thread the leader alone. Give it a try.
☐ The Knots – I will start my suggestions at the connection between the backing and the reel, then proceed all the way to the fly.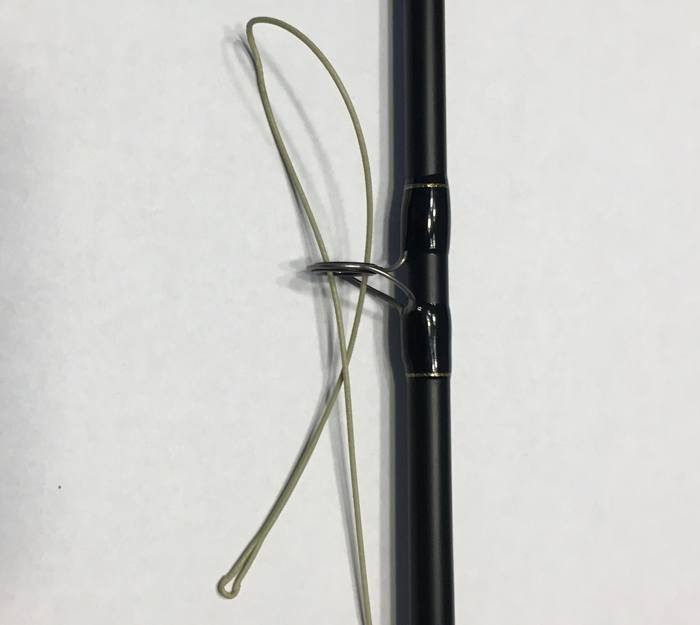 Final Thoughts
You are about to head to the river. If you are alone, text someone who cares about the location of where you are fishing. Secure your camera in a safe place. I hang mine around my neck with a lanyard and tuck the phone into the front of my waders. Make sure your drinks and munchies are secure. Check to see if your license is in your vest. Clear all objects away from the vehicle and shut and lock all doors with your keys in your hand. Now place your keys in a zippered pocket in your vest or pack, you will need them later.
Up until this point I pretty much just follow a system that gets me to the river and serves me well while I am there. I would suggest you develop a system of your own in regards to what works for you and can be repeated. With the confidence that you are prepared, it is time to focus on the stream. All fly fishermen are created equal until they step into the stream. Every trip to the river will present different conditions due to the fact that the river is new every day. That is just it's nature. Unlike the preparation checklist that can be done the same way every time, the fishing checklist has always been and always will be a moving target. I am learning something new every time I am fortunate enough to step into moving water.
Oh yeah, we are still standing at the streamside ready to fish. I would suggest that at this time you fish, and fish well. On the way back to the truck, pick up a little trash and place it in the small trash bag you always have in your vest. When the truck is in sight, do all the preparation steps in reverse. It is always a good idea to call your partner to ask if you can pick up something to eat and let them know you survived your adventure. Other than that, be careful on the way home.
Call me if you need me,
Greg