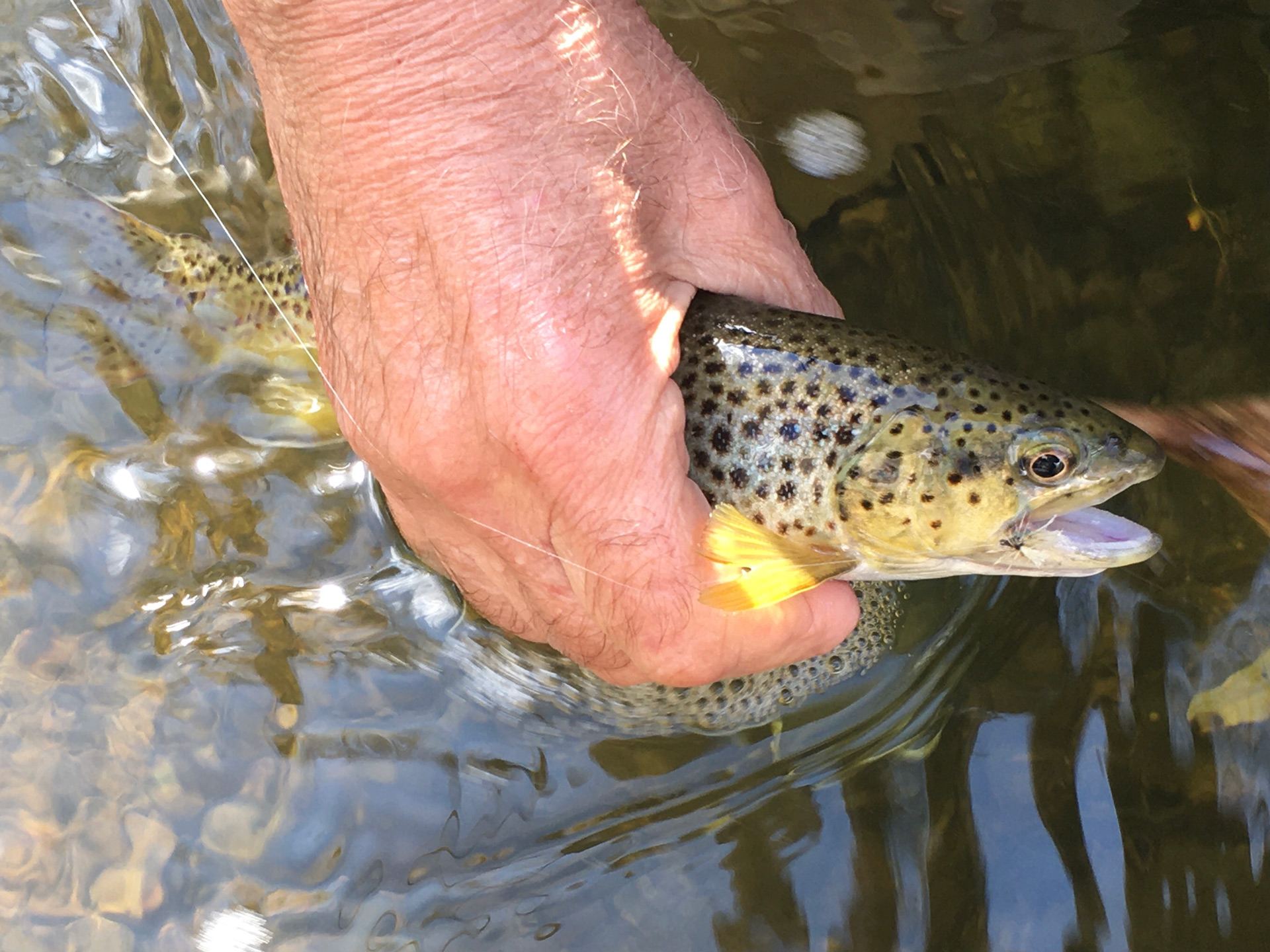 Going Mad
Like two kids, Buck Juhasz and I were looking forward to the possibility of dry fly fishing on the Mad River in the Fall. October caddis was probably going to be the last opportunity for rising brown trout on the Mad in this bizarre year of 2020. That being said, we took it seriously as we scouted various spots on the water starting in late September. After some absolutely beautiful October days filled with wading, watching, casting, and catching, early November rolled around and it was time to reflect on what we found as we re-discovered the wonderful trout stream that is the Mad River.
We made notes and discussed all things related to life and fly fishing and we found one thing for sure, fly fishing for trout can bring clarity when everything else seems so uncertain. At times, fly fishing is the only thing that makes any sense. The following notes represent some thoughts we explored and what we discovered in regards to trout fishing. The conclusions we came to in regards to the rest of the crazy world will remain between two old fishing buddies, the rocks we turned over and walked around, the wind we battled, and the trees we leaned on for rest. Who are we to tell the rest of the world how to live, right Buck?
Stream Conditions & Insect Activity
lower than average flows and gin clear water
Mild water and air temperatures throughout the month
Windy afternoons consistently had the entire water column laced with leaves and other floating debris
Caddis larvae and what appeared to be BWO nymphs moving around and under the river rocks
Observation of adult insects during hatches and remains left in spider webs strategically built in the branches of streamside trees
Splashy rise forms indicated trout were chasing Caddis Emergers and slower more deliberate rises from more experienced holdover browns in feeding lanes slurping adult resting caddis and floating olive adults
Finding Fish
low flows forced trout to populate in the deeper holding water

Stocking added to the holdover population and increased competition for food

Trout remained in holding water due to minimum fishing pressure and very few canoe hatches
Equipment
debris on the water called for longer rods (9'-10') for proper line management

Low clear water called for light lines and long light leaders (3 or 4 weight floating line coupled with 12'-15' 6x or 7x tippets)
Fly Patterns
Adult Caddis
Polar Parachute Caddis
Leaves and debris on top of the water column made visibility of the fly imperative for the fisherman to execute cast and drift
3D posture of this pattern helped separate from flat floating leaves
Color and size based on observation of naturals and enhanced visibility from the trouts perspective to allow for the fish to pick out the imitation of the natural from other floating objects (tan, light brown, yellow, caddis green, and UV olive)
TMC 102Y size 17 and TMC921 size 14
Elk River Caddis
Pattern design allows for natural movement of fly mimicking adult caddis escaping from river film
Natural colors of tan and brown
TMC101 size 14 and 16
Immature Caddis
Caddis Emerger with wing case
Effective when conditions allowed for dropper to be presented without fighting debris
When rise forms became more steady and less splashy, dropper became unnecessary
Caddis Green and Tan
TMC2488 size 16
Buck and I spent many hours chasing the elusive brown trout on The Mad in October this year, 2020.  We were able to find and net more 8"-15" butter colored Salmo Trutta than we could have hoped for. The river truly owes us nothing!  We started the month with the hope that a fish would rise and at the end of this particular adventure we found trout and I guess what we were really looking for, peace and contentment.